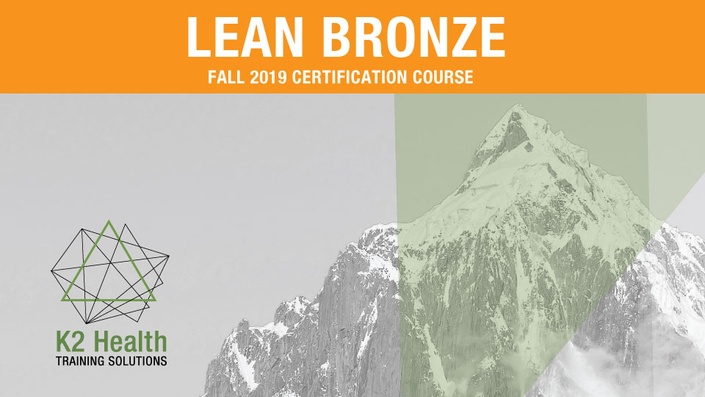 Fall 2019 Lean Bronze Certification Course
Bronze Certification Prep Course with Practical Applications to the Physician Practice
Lean principles that have saved businesses enormous amounts of time, energy and money can revolutionize your healthcare operation. Nationwide, healthcare systems are reducing medical costs, finding savings and creating efficiencies with Lean principles. Lean is not merely a new set of tools or techniques to try on the hospital floor, in the examination room or in your records keeping; Lean is a fundamental change in how people in the healthcare organization think.
Lean principles help healthcare organizations create value-added systems, with the end goal of increasing customer service and satisfaction. If you're interested in improving your processes, help your staff be more satisfied with their work and improve your patient's experience, we can help you begin your lean journey.
Our 12 week Lean training will help you understand the fundamentals of Lean concepts and begin to understand how to apply them. You will complete the Body of Knowledge required to pass the Lean Bronze Certification exam. Once you have successfully passed the exam, you will be on your way to begin applying Lean in practical settings in healthcare processes and systems.
This training program is targeted toward professionals such as:
Healthcare Executives
Pharmaceutical or Life Science Professionals
Hospital and medical office staff
Physicians, Nurse Practitioners, Physician Assistants and Nurses
Laboratory and other healthcare services staff
Insurance, IT, billing and other clinical staff
We use an interactive mixture of teaching techniques throughout the 12 weeks to provide the best learning experience. You can expect a balance of self-paced textbook reading, live web demos, conference calls and in-depth review course to set students up for successful completion of the broader SME Lean Bronze Exam, in addition to practical knowledge tailored to the healthcare environment for application in the real world. Live instructors are available for Q+A, discussions and test preparation reviews – this is not a self-guided eLearning module.
Your Instructor
Our team at K2 Health Training Solutions will guide you through an indepth and interesting course that leads to Lean Bronze Certificaiton.
Frequently Asked Questions
When does the course start and finish?
The course begins on September 11 and ends on December 4. The exam will take place the week of December 11.